Wire Mesh Quarry Screen
How is the Crimped Wire Processed into Wire Mesh for Quarry Screening and Other Uses?
Crimped Steel Mesh is plain woven wave shape metal screen made with pre-crimped wire. The metal wire is crimped with metal mold in advance, thus enabling the wire in two opposite directions in the right position, ensuring the crimped wire mesh with consistent mesh sizes. Hence, crimped wire mesh has uniform and durable wave structures.
Heavy type crimped mesh made of thick wire is suitable for screening and sifting in mine, petroleum, chemical, construction as barbecue meshes, vibrating screen, wire mesh for food machinery, wall nets, cooking utensils mesh, quarry screen, etc.
Quarry screen is normally made of the mesh fabric and reinforcing edges or hooks, illustrated as photos below.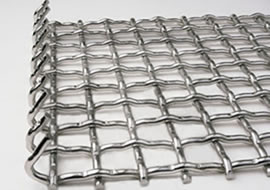 Plain Weave Galvanized Steel Mesh Screen with Selvages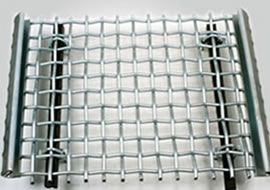 Steel Plate Hooked Metal Screen
Major Five Wire Types for Pre-crimping into Wave Shape Quarry Screen Fabrics:
1. Mild Steel / Low Carbon Steel
2: Black wire: Black steel wire, also known as high carbon steel wire with greater hardness. With added manganese, it is called high manganese crimped wire mesh with increased wearing resistance. Commonly used in the mining screen mesh. Common manganese steel used:45 # Mn, 65 # Mn.
3: Galvanized wire: applied to crimped wire mesh with small wire diameter, used to make wire mesh barbecue.
4. Galvanized Redrawing Wire:
Compared with galvanized steel wire, the redrawing wire has one time less annealing processing as detail listed below:
Average galvanized wire production process is: Rod - Drawing - annealing - drawing - annealing - galvanized.
Redrawing wire production process is: Rod - Drawing - annealing - Zinc Plating - Drawing.
As a result of the processing difference, galvanized redrawing wire has more strength compared with common galvanized wire, less good corrosion resistance and it costs less.
5: Stainless steel wire: SUS304, 316, 304L, etc.

Four Weaving Types of Crimped Mesh Screen Fabrics:
Above waved crimped wire is then woven according to the following methods to form a fabric or sheet:
1. Plain Crimped
2. Intermediate Crimped
3. Lock Crimped
4. Single surface crimped: also known as Flat Top Crimped

Wire Diameter and Weight Calculation of the Crimped Mesh:
Crimped Wire Mesh has no standard sizes. The material, wire diameter and aperture can vary according to the different uses.

Fine crimped wire mesh has a wire diameter ranging from 0.5mm-2.0mm, coarse crimped wire mesh can be made of wire diameter ranging from 5mm-22mm.

How to calculate the weight of unit crimped mesh? Crimped wire mesh can be calculated according to the following formula : square meter weight (kg) = wire diameter × wire diameter ×mesh count ÷ 2 × n [ Note: mesh count = 25.4 ÷ ( aperture + wire diameter ) ]
(N: when large crimped wire mesh or crimped intermediate weaving, n= 1.13, in the fine wire diameter, it is 1.1. It is referred as large wire diameter when it is 4mm up.)