Galvanized Crimped Mesh
Crimped Wire Mesh is made by carbon iron wire, galvanized steel wire or stainless steel wire. Galvanized crimped mesh offers firm structure, good strength and economic cost.
Processing: Weaving with crimped wire
General Use: Screening in mine, coal factory, construction and other industries. Some galvanized crimped wire mesh and stainless steel crimped wire mesh are for roasting of flour food and meat.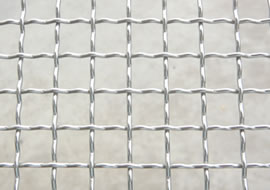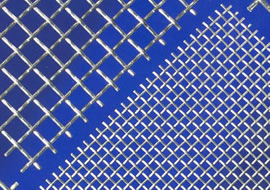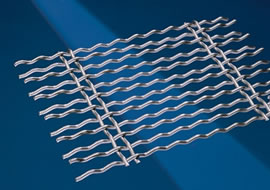 | | | | | |
| --- | --- | --- | --- | --- |
| Wire Gauge (SWG) | Wire Diameter (mm) | Mesh | Opening (mm) | Weight (kg/m2 ) |
| 14 | 2.0 | 21 | 1 | 4.2 |
| 8 | 4.05 | 18 | 1 | 15 |
| 25 | 0.50 | 20 | 0.61 | 2.6 |
| 23 | 0.61 | 18 | 0.8 | 3.4 |
| 24 | 0.55 | 16 | 0.1 | 2.5 |
| 24 | 0.55 | 14 | 0.12 | 4 |
| 22 | 0.71 | 12 | 0.14 | 2.94 |
| 19 | 1 | 2.3 | 0.18 | 1.45 |
| 6 | 4.8 | 1.2 | 2 | 20 |
| 6 | 4.8 | 1 | 2 | 20 |
| 6 | 4.8 | 0.7 | 3 | 14 |
| 14 | 2.0 | 5.08 | 0.3 | 12 |
| 14 | 2.0 | 2.1 | 1 | 2.5 |
| 14 | 2.0 | 3.6 | 1.5 | 1.9 |